Join us Wednesday nights 7-9 p.m.  to work on any project you may be cooking up!
Find out more »
Crafters, sewers, fiber artists, and beginners of all stripes: join us for weekly Craft Night each Wednesday beginning October 12. This free project night will provide sewing machines, fabrics, notions, and an optional craft-along project each month. Bring your own materials, or use materials that have been donated by Boston Makers's generous community. October's theme: Make your own Halloween costume using our extensive selection of fabric and upholstery samples! How creative can you get? This event is for adults.
Find out more »
We are open most Thursdays from 7-9pm. Volunteers and drop-ins welcome! Follow us on Facebook and Twitter for additional updates.
Find out more »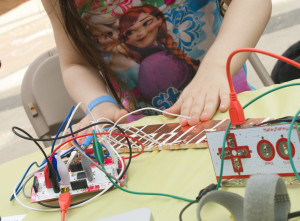 Come and work your creative mojo! Young Makers Club is recommended for girls and boys 8 - to 16-years-old looking to learn programming, electronics, or a self-directed art project. We've got equipment and materials for kids to create any project they're dreaming of, whether it's a Raspberry Pi Sonic Sensor project, Make magazine idea, or an invention of their own. Boston Makers is a 501c3, volunteer-run organization that relies on generous donations from our community to create programming for kids and adults. Please consider donating…
Find out more »
Join us and help develop a collaborative project. Every Monday, 7-9 p.m.
Find out more »
Whether you're interested in databases, plumbing, or social media, Boston Makers has a volunteer opportunity for you. Join us every second Tuesday of the month from 7-9 p.m. to help with committee tasks. As of June 2016, these include: space fixes, installing a sink, doing inventory of all our new and donated equipment, organizing to make the space more usable for all helping us reinstall CiviCRM to track donations and set up class registrations social media and website updates--everything from…
Find out more »
We've heard from so many people wanting to volunteer and help Boston Makers grow. Finally, we're offering a volunteer orientation to give you an opportunity to help out, learn the various machines, teach classes, and more. Join us every third Tuesday of the month, 7-9 p.m., at our space at 3201 Washington Street. We'll provide water and light snacks while we explain all the ways you can contribute. Questions? Email contact@bostonmakers.org This will be an in-depth discussion with powerful equipment…
Find out more »