"We're scheming and dreaming," is how Ted Heinrich, of Boston Makers's Microcontroller Club, describes the wooden labyrinth the group has been building on Monday nights since April. Every other week, five or eight people show up to the Cheverus Building basement and spread out across the room: laptops hooked up to Arduinos, power drills, three by one planks of wood, and a giant box of Legos.


The Collabyrinth is the Microcontroller Club's project for FIGMENT Boston. In less than three weeks, the group plans to have their first prototype complete, followed by further development and automation for Fab11 and beyond.
What's the Collabyrinth? Imagine a cross between pinball and a Wii Fit game, but five feet across, with people collaborating (or perhaps competing) to make a ball travel through a course and into a specific gate.

Stephan handles much of the carpentry, creating nested frames of wood measuring 57 ¼ by 48 inches and joined together with metal brackets. He points to where copper pipes will run underneath the wooden frames to support a large wooden panel, which Ted is designing across the room with tape, small Legos, and a printout of the MBTA subway map. The course for the Collabyrinth will follow the T map, with terminal stations serving as gates for the balls.


At another table is Jessamin, who's programming a pressure pad with an Arduino. These pressure pads will be sandwiched between foam and wood. The Arduino senses the weight each Collabyrinth player uses to step on their wooden block and tells the board which way and how much to tilt using stepper motors. One pressure pad controls the x-axis, and another the y-axis.
How did this project come together? The varied backgrounds of the Microcontroller Club members—including Paulie, who wanted an excuse to learn how to use a Raspberry Pi someone gave him, and Ted, whose mother Adrienne is a renowned artist—means they all have specific interests and strengths to contribute. And they're also open to new ideas and helping hands for each iteration of the Collabyrinth.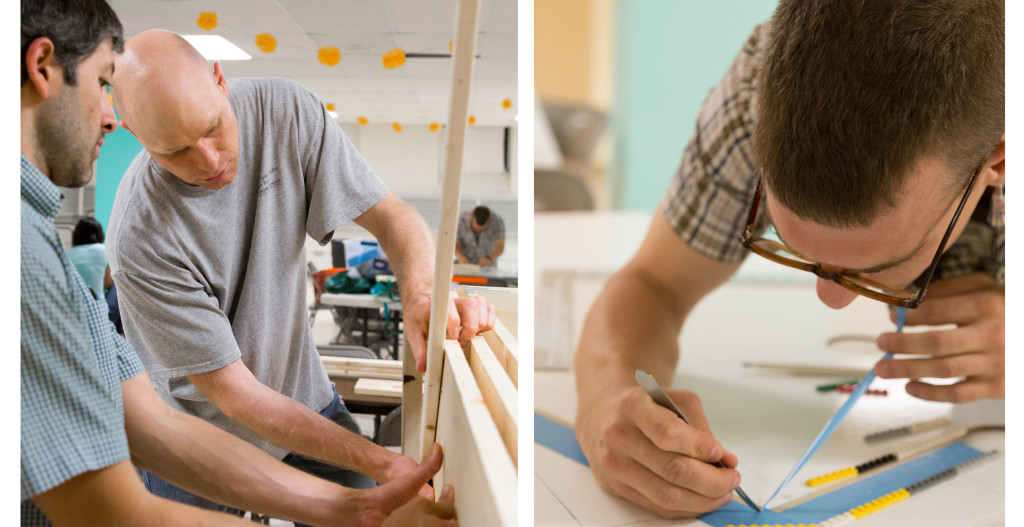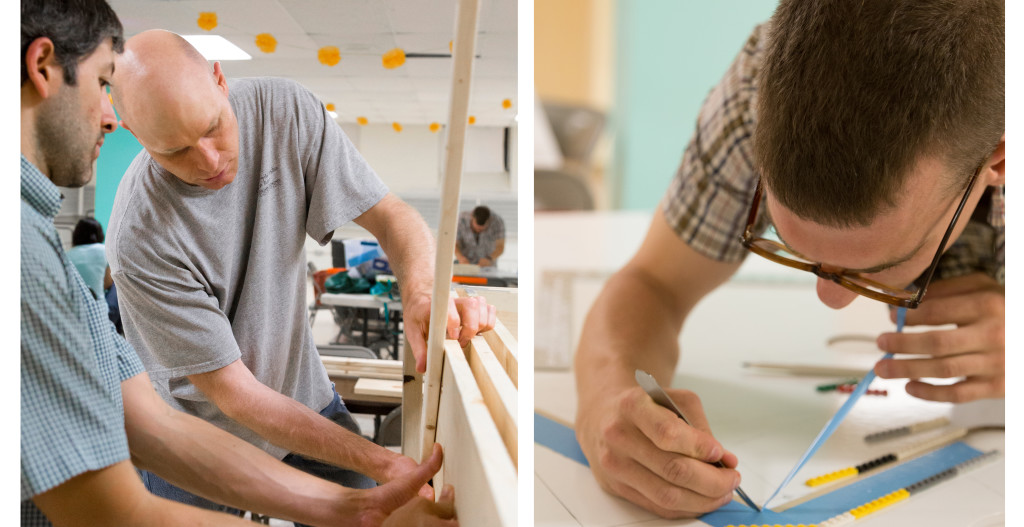 "You set up, get going, and lose yourself," says Stephan, explaining why he enjoys the Microcontroller Club. "You think just a half hour has gone by, but suddenly it's 9 and we have to pack up."
Want to see the Collabyrinth in action? Be sure to check out FIGMENT Boston later this month, or stop in at a Microcontroller Club meeting. Alternating Mondays, 7-9pm, in the Cheverus Building at 361 Centre Street in Jamaica Plain.